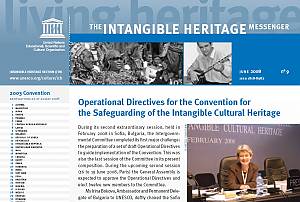 During its second session in September 2007, the Intergovernmental Committee for the Safeguarding of the Intangible Cultural Heritage accepted the offer from the Republic of Bulgaria to host the second extraordinary session of the Intergovernmental Committee (Decision 2.COM 15).
This second extraordinary session was held in Sofia, Bulgaria, from 18 to 22 february 2008, under High Patronage of H.E. Mr Georgi Părvanov, President of the Republic of Bulgaria.
Committee Members during the second extraordinary session

Algeria, Belarus, Belgium, Bolivia (Plurinational State of), Brazil, Bulgaria, Central African Republic, China, Estonia, France, Gabon, Hungary, India, Japan, Mali, Mexico, Nigeria, Peru, Romania, Senegal, Syrian Arab Republic, Türkiye, United Arab Emirates and Viet Nam
Members of the Bureau of the second extraordinary session of the Committee
Speeches
Oral report
Decisions and Summary records
Working documents of the second extraordinary session

Comments of States Parties on the participation of communities, etc.
During its meeting in Tokyo, the Committee decided (Decision 2.COM 8 : English - French) to consult the States Parties on the possible modalities for the participation of communities or their representatives, practitioners, experts, centres of expertise and research institutes in the implementation of the Convention.
The comments received by the Secretariat are presented here in the language and format in which they were submitted: Belgium, Brazil, Bulgaria, Estonia, France, Japan, Latvia, Lithuania, Mexico, Niger, Norway, Peru, Republic of Korea, Romania, Slovakia and Turkey.