In April 2020, UNESCO launched an online survey and web platform to share and exchange experiences of living heritage in the context of the COVID-19 pandemic. This initiative is ongoing as part of UNESCO's response to the impact of the pandemic on culture.
Invited speakers contributed to the survey sharing some inspiring living heritage experiences. Through their testimonies, we will be able to look closely into the effects of the pandemic in different contexts, as well as the positive ways that the dynamic and adaptive nature of living heritage has helped communities respond to the pandemic. This session, part of the ResiliArt debates, will also aim to foster a spirit of exchange and dialogue across generations, communities and cultures.
Experiences and speakers
Snapshot of the survey results (as of August 2020): English|French|Spanish
Italy
Cremona, home to the 'Traditional violin craftsmanship in Cremona' (Representative List of the Intangible Cultural Heritage of Humanity, 2012), has been heavily affected by the COVID-19 pandemic. The government-mandated lockdown led to the closure of violinmakers' workshops and laboratories, as well as many cultural institutions, and therefore affected the social and economic sustainability of the practice. Consequently, the community launched several initiatives, which have been vital in raising awareness of the importance of traditional violinmaking to the identity of Cremona and its irreplaceable role in the city's social and cultural practices and rituals.
Speaker
Gianluca Galimberti

Gianluca Galimberti has a degree and a PhD in Physics. He has been Mayor of the city of Cremona since 2014 and he has also been teaching Physics and related subjects in several universities in Italy.
During his time in office he has regularly engaged with and represented Cremona's violin-making community and their interests. Examples of this engagement with the community include his participation in the 'Workshop on Economic Aspects of Geographical Indication Protection at the EU Level for Non-Agricultural Products' (Brussels, 18 November 2019), where he represented the community's experiences and views at a European level.
Virginia Villa

Virginia Villa (Como, 1951) graduated in Modern Foreign Languages and Literatures at the Faculty of Humanities and Philosophy of the Università Cattolica del Sacro Cuore of Milan. In 1979, she began as an organizational consultant in music didactics for the City of Milan. She curated several exhibitions, as well as youth orchestras and concert seasons at the Teatro Lirico of Milan and musical seasons at the Piccolo Teatro of Milan and the Museo Teatrale alla Scala.From 1980 to 2013 she was Didactic Coordinator at the Civica Scuola di Liuteria of Milan. From 2005 to 2013 she was Director of the Fondazione Stradivari of Cremona (formerly Ente Triennale degli Strumenti ad Arco) coordinating, among others, important exhibitions on historical violin making.She launched the international network "friends of Stradivari" that made it possible to exhibit in Cremona ten precious historical violins from private collections that were not previously available for public display. She is currently General Director of the Fondazione Museo del Violino Antonio Stradivari Cremona that has opened its exhibition areas on 14 September 2013. She is member of the Scientific Committee of the Museo del Violino.
Mali
In Mali, the living heritage of the masons who maintain and safeguard the earthen architectural heritage of the mosque of Djenné have been severely affected by the pandemic. The masons are renowned for their specialized knowledge and skills in the intensive and remarkable use of earth for the construction and maintenance of the mosque, a building of great monumental and religious value for the people of Djenné. Due to COVID 19, the masons have suffered from suspensions to their work, loss of income and interruptions to the transmission of their rich living heritage to future generations. Support is needed to sustain the masons' guild and revive their activities, which play a crucial role in the social and cultural fabric of Djenné.
Speaker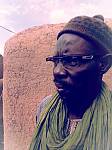 Boubacar Kouroumassé

Boubacar Kouroumassé was born in 1961 to a mason/stonemason family in Djenné. He started his career as a mason with his father at a young age. To complete the training, he followed his uncle in the construction of mud mosques outside Mali. With more than 31 years of experience in the field of earth construction, Boubacar is a key member of the masons' guild of Djenné, the "Barey Ton", proclaimed a Living Human Treasure in 2008.
Accompanied by

Moussa Moriba Diakité, Director of the Cultural Mission of Djenné Circle of Djenné, Region of Mopti-MALI
Palestine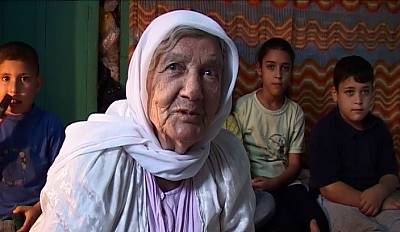 Many aspects of Palestinian living heritage were affected by the pandemic, from weddings and folk celebrations, customs and rituals associated with death, religious celebrations and collective ritual practices. In response, there was a revival in some social and cultural practices, such as those related to traditional knowledge around agriculture and health care. Traditional forms of mutual aid, including the distribution of food, vegetables and assistance at different levels, played an important role to bolster community resilience and solidarity. Moreover, traditional storytelling and oral forms, such as jokes, anecdotes and satire, helped communities express their current situation and come to terms with the crisis.
Speaker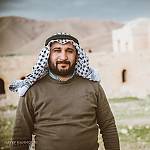 Hamza Aqrabawi

Hamza Aqrabawi is a researcher in popular folklore. He writes and publishes books about traditions, customs and rituals, leading several initiatives focused on the documentation and inventorying of living heritage. He has taken part in three UNESCO workshops concerning the 2003 Convention for the Safeguarding of the Intangible Cultural Heritage. He also coordinates the Hakaya team-Palestine which organizes events and national festivals related to folk stories and storytelling as well as workshops for training new storytellers. He is a member of the administrative board of the Heritage Study Center in Palestine, and has documented many intangible cultural heritage elements and oral traditions during the COVID-19 pandemic.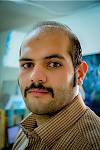 Fouad Muaddi

After getting the master's degree in Planning and Management of Tourism Equipment Sites and Areas from Montaigne-Bordeaux3 University in France, Fouad Maadi now is the head of the Tourist Information Center Division in Ramallah Municipality. Fouad's main passion is the collection of folk tales and local oral history of communities, and studying the collective perception of historical events. Through his work in Palestine, Fouad helps archiving the oral tradition of local, communal, economic and social habits.



Peru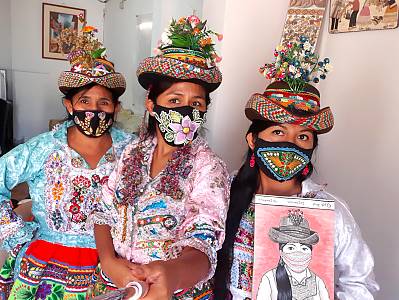 In response to the pandemic, Venuca Evanan, Violeta Quispe Yupari and her mother Gaudencia Yupari - indigenous artists from the Ayacucho region in Peru – created face masks incorporating the traditional designs and patterns of their living heritage. The elaborate designs inspired by Sarhuino traditional art are both a symbol of hope and optimism in face of the crisis and a vehicle for promoting their heritage and culture in Peru and abroad. The masks also provide a source of financial support to Sarhui families, a sign of their resourcefulness and resilience against the pandemic.
Speaker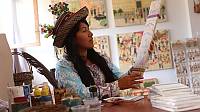 Venuca Evanan

Artist and illustrator, heir to the artistic expressions of her community. During the last years she has been dedicated to the promotion and transmission of traditional knowledge of the Sarhua, in diverse workshops developed in public and private institutions of Lima and its community.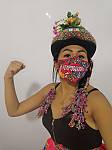 Violeta Quispe Yupari

She is the heiress of the art of her parents, the artists Juan Walberto Quispe Michue and Gaudencia Aquilina Yupari Quispe. She grew up in a neighbourhood in the district of Chorrillos, in Lima, where a large part of the migrant families of the Sarhua - displaced by the political violence - dedicated to handicraft settled. Her creations, mainly drawings and paintings, are nourished by Sarhua's traditional art, but converge in her own contemporary style that sets her apart. With her mother they make a couple that share different roles in the creative process, and they are founders of the Taller VIGA (2019), to promote the traditional-contemporary culture beyond the art of Sarhua.
Sri Lanka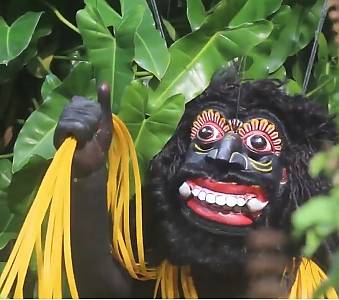 Practitioners of traditional string puppet drama in Sri Lanka produced short video clips to educate the public on responsible behavior to prevent the spread of the disease. Traditional puppet drama characters and characters from contemporary life were used to convey messages about the pandemic and reinforce public health messages. Although string puppet dramas are traditionally performed inside darkened spaces using purpose-built stages, these episodes took place outdoors in daylight, creating a sense of realism to convey the message to the audience.
Speakers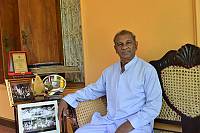 Premin Gamwari

Premin Gamwari was born in 1946 to a family of puppeteers in Ambalangoda, a coastal town in Southern Sri Lanka and home to traditional string puppet theatre in Sri Lanka. He received formal education up to junior-secondary level and joined his father, a leading puppeteer at the time, to master the art. He succeeded his father and re-organized the practice as a 'family company' under the name 'Saranga Rukada Natya' that became popular throughout the country. As a master puppeteer, he has held several positions in State and Provincial agencies to promote traditional puppet drama and has won numerous awards for his services. Outside of Sri Lanka, he has also performed in France, India and Thailand.
Nalin Gamwari

Nalin Gamwari was born in 1950 to a family of traditional string puppeteers in Ambalangoda, a coastal town in Southern Sri Lanka and home to traditional string puppet drama in Sri Lanka. After 11 years of formal school education, he began apprenticing in the art of traditional string puppet drama under the tutelage of his father, a master puppeteer at that time. He since took over his father's puppet theatre company known as 'Sri Anura Rukada Sangamaya', which has become very popular. Nalin has won many state awards and other accolades for the excellence of his art and has performed at various international cultural events held in Australia, Iran, Japan, Pakistan, Singapore, Spain, Taiwan, Thailand and the United Kingdom.
Accompanied by
Bilinda Dewage Nandadeva , UNESCO Facilitator