Patum of Berga
Inscribed in 2008 (3.COM) on the Representative List of the Intangible Cultural Heritage of Humanity (originally proclaimed in 2005)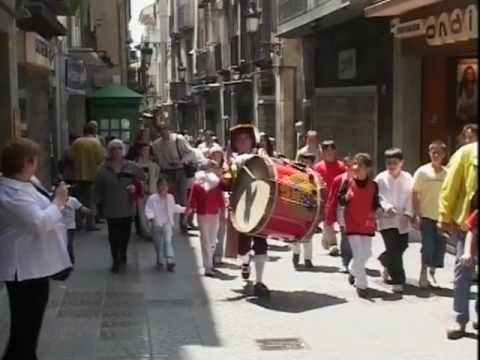 The Patum of Berga is a popular festival whose origin can be traced to medieval festivities and parades accompanying the celebration of Corpus Christi. Theatrical performances and parades of a variety of effigies animate the streets of this Catalan town located north of Barcelona. The celebration takes place every year during the week of Corpus Christi, between late May and late June.
An extraordinary meeting of the municipal council, the appearance of the Tabal (a large and emblematic festival drum presiding over the festivities) and the Quatre Fuets announce the festivities. Over the following days numerous celebrations take place, most important of which are the parades, the ceremonial Patum, the children's Patum and the full Patum. The Taba (tambourine), Cavallets (papier mâché horses), Maces (demons wielding maces and whips), Guites (mule dragons), the eagle, giant-headed dwarves, Plens (fire demons) and giants dressed as Saracens parade in succession, performing acrobatic tricks, lighting fireworks and spreading music among the joyous audience. All of these characters join to perform the final dance, the Tirabol.
The Patum of Berga, which has preserved its mix of profane and religious features through centuries, stands out from the region's other festivals that have come down from the Middle Ages owing to its richness and diversity, the preservation of its medieval street theatre and its ritual component. Although the survival of the celebration seems ensured, it is to be taken care of that strong urban and tourist development do not lead to a loss of value of the Patum.