Polyphonic singing of the Aka Pygmies of Central Africa
Inscribed in 2008 (3.COM) on the Representative List of the Intangible Cultural Heritage of Humanity (originally proclaimed in 2003)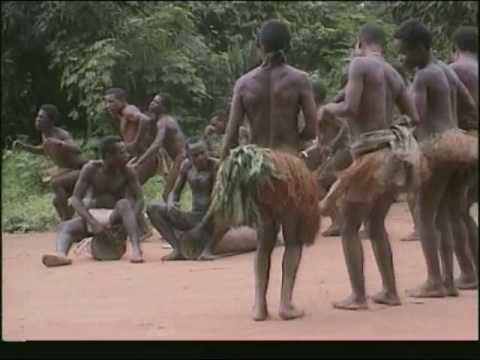 The Aka Pygmies living in the south-west region of the Central African Republic have developed a distinctive vocal musical tradition, which involves a complex type of contrapuntal polyphony based on four voices, mastered by all members of the Aka community.
Music and dance form an integral part of Aka rituals including ceremonies related to the inauguration of new encampments, hunting and funerals. Unlike polyphonic systems that are written down in notation, the vocal tradition of the Aka Pygmies allows for spontaneous expression and improvisation. During performances, each singer can change his or her voice to produce a multitude of variations, creating the impression that the music is continuously evolving. The songs are generally accompanied by various percussion and string instruments, each one played for a specific occasion.Among the most common instruments are a local type of drum (enzeko), a harp-like instrument known as the geedale-bagongo, and the single-string bow (mbela). The songs perpetuate essential knowledge for the cohesion of the group and the preservation of community values. The dances are performed to the accompaniment of vibrant hand-clapping. Depending on the ritual, some dances feature men only, while others may be executed by couples or by male and female solo dancers. Relying entirely on oral transmission, the Aka Pygmies have succeeded in preserving their musical knowledge within the community by including children in rituals from an early age.
The lifestyle of the Aka Pygmies has been drastically disrupted due to the changes currently taking place in the Central African Republic. The scarcity of game resulting from deforestation, the rural exodus and the folklorization of their heritage for the tourist industry are the principal factors contributing to the gradual disappearance of many of their traditional customs, rituals and skills.