Taquile and its textile art
Inscribed in 2008 (3.COM) on the Representative List of the Intangible Cultural Heritage of Humanity (originally proclaimed in 2005)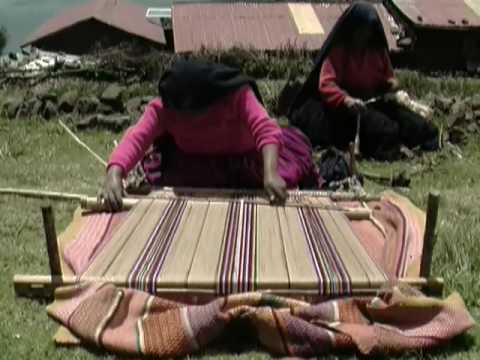 The island of Taquile located in Lake Titicaca on the Peruvian High Andean Plateau, is known for its textile art, which is produced as an everyday activity by both men and women, regardless of their age, and worn by all community members.
The people of Taquile were relatively isolated from the mainland until the 1950s, and the notion of community is still very strong among them. This is reflected in the organization of community life and in collective decision-making.The weaving tradition on the island goes back to the ancient Inca, Pukara and Colla civilizations, thus keeping alive aspects of pre-Hispanic Andean cultures.
Fabrics are either knitted or woven on pre-Hispanic fourstake ground looms.The most characteristic garments are the so-called chullo, a knitted hat with an earflap, and the calendar waistband, a wide woven belt depicting the annual cycles connected to ritual and agricultural activities. The calendar waistband has attracted the interest of many researchers as it depicts elements of the oral tradition of the community and its history. Although new, contemporary symbols and images have been introduced into Taquile textile art, the traditional style and techniques have been maintained.
Taquile has a specialized school for learning Taquile handicrafts, ensuring the viability and continuity of the tradition. Tourism has contributed to the development of communal economy, which mainly consists of the textile and tourist trade.While tourism is regarded as an effective way of ensuring the continuity of the textile tradition, rising demand has led to significant changes in material, production and meaning. The Taquile population has grown considerably over recent decades, leading to resource shortages and the need to import more and more goods from the mainland.
Sustainable Development Goals
Biomes
Domains of the Convention