Date
19/05/2011 - 21/05/2011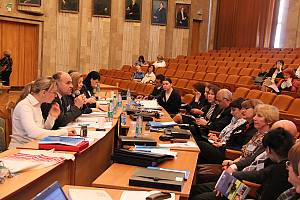 The consultative meeting of experts and training "Strengthening national capacities for the Safeguarding of Intangible Cultural Heritage" takes place in Minsk (Belarus) from 18 to 21 May 2011. The event aims to strengthen national capacities in Armenia, Azerbaijan, Belarus, Moldova and the Russian Federation for the Safeguarding of the intangible cultural heritage present in their territory. It also aims to raise awareness of the importance of this heritage for sustainable development, taking into account the perspectives of gender and youth.
The training utilizes materials developed by UNESCO and the network of regional facilitators trained as part of the overall strategy of the organization for capacity building in the implementation of the Convention on Intangible Heritage (2003).
The event is organized by the Cluster Office of UNESCO in Moscow in partnership with the Institute of Arts, Ethnography and Folklore, with the participation of the Ministry of Culture of the Republic of Belarus and the National Commission of the Republic of Belarus for UNESCO.