Date
12/12/2007 - 14/12/2007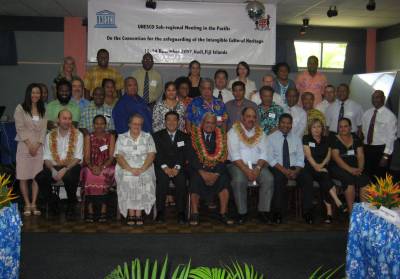 The meeting was organized by UNESCO, in cooperation with the Fijian authorities and with the financial support of Japan, to provide updated information on the activities carried out at the international level for safeguarding intangible heritage and on the possible benefits of ratifying the 2003 Convention for Pacific States. Some 30 participants from 19 pacific States and territories, as well as from three pacific organizations, exchanged their views and experiences in safeguarding their countries' living heritage. The meeting was opened by Fiji's honorable Minister for Education and Culture, Mr Netani Sukanaivalu.
The meeting contributed to sharing concerns and experiences concerning inventorying intangible cultural heritage, indigenous rights and intellectual property rights, as well as clarifying misunderstandings about the relation of the 2003 Convention to other normative instruments. The meeting also served as a first step to develop a medium term strategy for the safeguarding of the Pacific's intangible heritage within the framework of the implementation of the Convention. It would include the organization of national consultative meetings aimed at providing necessary assistance for stakeholders who will be involved in the ratification and implementation of the Convention in each country.
The meeting was closed by the Honorable Minister of Culture of Palau, Mr Alexander Merep, who underscored the important role that the Convention will have in contributing to intercultural dialogue and sustainable development.