Date
10/04/2013 - 13/04/2013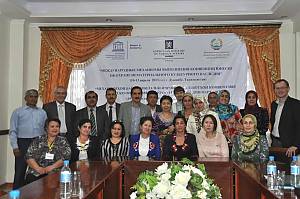 Three years after ratifying the Convention for the Safeguarding of the Intangible Cultural Heritage, Tajikistan is moving forward to strengthen its capacities for safeguarding intangible cultural heritage. Implemented within UNESCO's global capacity-building strategy, a two-year project was launched in 2012 thanks to the generous support of Norway. The aim is to build a critical mass of experience and knowledge, both in government institutions and in civil society, so that Tajikistan will be equipped with an appropriate sustainable framework for safeguarding intangible heritage and implementing the Convention on a long-term basis.
The project entails a long-term, multi-faceted approach including the revision of policies and legislation, the strengthening of institutional infrastructures, the development of inventory frameworks and methods that fully involve the communities concerned, and the reinforcement of technical skills required to safeguard intangible cultural heritage. Its first stage focused on the implementation of the 2003 Convention at the national level, and a five-day workshop held in August 2012 focused on core concepts of the Convention, while providing the participants with a thorough understanding of the obligations of all stakeholders at the national level.
The international mechanisms of the Convention are at the core of the current stage of the project. Governmental, academic and educational institutions, representatives from craft and traditional music communities, and members of civil society have met in a workshop organised by UNESCO Almaty and the Tajik National Commission for UNESCO from 10 to 13 April 2013 in Dushanbe to acquire the knowledge required to elaborate nominations for inscription on the Lists of the Convention, proposals for Best Safeguarding Practices and requests for International Assistance. The workshop was facilitated by Ms Sabira Soltongeldieva and Mr Ilya Fetisov.
Documents
For more information, please consult the webpage of UNESCO Almaty.