Venue of the fifth session of the Committee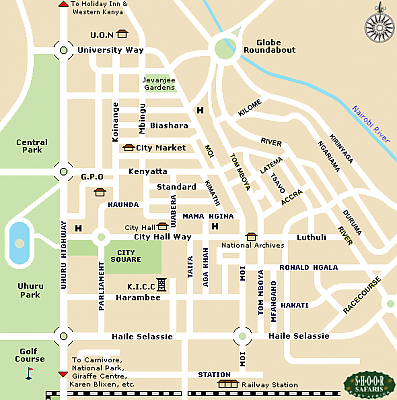 The fifth session will take place in Nairobi, capital of the Republic of Kenya, from 15 to 19 November 2010 at the Kenyatta International Conference Centre KICC:
Address: P.O. Box 30746-00100 - Nairobi, Kenya
Tel: +254 20 247277
Fax: +254 20 310223
E-mail: info@kicc.co.ke
The Kenyatta International Conference Centre is located in the Central Business District of Nairobi city. It is approximately 18 km from the Jomo Kenyatta International Air port. Most recommended hotels are within the Central Business District or its environs. Shuttle services will be provided from the recommended Hotels to the Venue and back at the end of every daily session.
Registration Form
The registration form (English/French) should be returned before 15 October 2010:
by e-mail: ichmeetings@unesco.org (if permitted by your Acrobat version)
by fax: +33 (0)1 45 68 57 52
or in hard copy, addressed to: UNESCO CLT/CIH/ITH - 1 rue Miollis - 75732 Paris Cedex 15 – FRANCE
Recommended Hotels
For the convenience of the participants to the meeting, the host country organizer recommends the following 8 hotels in 8 different areas of Nairobi and established a website with a direct link to these hotels: http://www.intangibleculture.go.ke. Session participants are responsible for booking their own hotel room and for covering all costs related to their accommodation incurred during their stay. Usually a credit card number will be required by hotels to reserve a room. Kindly note that the number of rooms available is limited.
Participants who stay at any of the recommended hotels will be provided with a special transport service from the hotel to the meeting venue and back.
Special rates have been negotiated for the participants. To book a room at one of these hotels and benefit from these negotiated prices, participants must indicate the booking code "UNESCO Meeting".
For more information about the recommended hotels and reservation, see the website of the host country organizer http://www.intangibleculture.go.ke.
Intercontinental Hotel*****
The InterContinental Nairobi is a superbly equipped hotel located in the heart of Kenya's capital city. The hotel offers a wide range of both corporate and leisure facilities including a distinguished conference room, outdoor heated swimming pool, 24-hour gym with spa, massage service and sauna. Outdoor pursuits include catering in Nairobi's National Park. There are 371 air conditioned rooms with a Presidential Suit, Executive deluxe suites and a Club InterContinental floor. All rooms have en-suite bathrooms, internet link, telephone and TV.
Nairobi Serena Hotel*****
Renowned for its high standards of efficiency, hospitality and service, the Nairobi Serena Hotel is the flagship of the Serena Hotel Group. Set amid tropical gardens with panoramic views over the park and the downtown skyline, the Serena is an oasis of serenity amid the bustle of one of Africa's most vibrant capitals. Most rooms have views across the park or the garden. The Nairobi Serena offers a range of fine cuisine including Kenyan, Indian, Italian and Creole. The hotel also has an outdoor swimming pool and a health club as well as modern business and conference facilities.
Hilton Nairobi*****
Hilton Nairobi is located in the heart of the business and shopping area of Nairobi. The hotel combines close proximity to the airport with all the advantage of a city centre hotel. Hilton Nairobi has modern facilities serving 287 rooms, an executive floor and lounge and a business centre. The hotel offers a unique dining experience with four restaurants and two bars offering a variety of menus. Health club facilities include a heated outdoor swimming pool, gymnasium, aerobics, sauna, steam bath and massage.
Crowne Plaza*****
The Sarova Stanley*****
The Sarova Stanley is Kenya's first luxury hotel. It opened its elegant doors in 1902. Since then it has been making history-hosting royal safaris, business events, and legendary personalities such as Edward Prince of Wales, Ernest Hemingway, and Frank Sinatra. Today as the hotel enters its second century, it continues to maintain its unique heritage and provides state-of-the-art services and facilities to business and leisure travellers. The hotel has 217 luxurious guestrooms, including 23 suites, all blending luxurious Victorian grandeur with modern comfort. Spacious club rooms offer deluxe amenities; executive rooms with en-suites lounge and cloakroom. Opulent Presidential, penthouse, and state suites are the pinnacle of luxury. The hotel has three restaurants: the famous Thorn Tree Cafe, the Thai Chi, for authentic Thai cuisine, and the al fresco Pool Deck Restaurant. The past comes to life at The Exchange Bar, former home of Nairobi Stock Exchange, with leather couches and malt whiskies. Other facilities include health club with aerobics, heated pool, massage, sauna and steam room an elegant shopping arcade with curios, suits, eyewear, leather shop, bookshop, pharmacy, and a fully equipped business centre.
Fairview Hotel****
The Fairview- 'the country hotel in town' – is set in five acres of landscaped gardens, five minutes from downtown Nairobi. Owned and managed since 1946 by one family, the Fairview is a charming blend of past and present. Guest rooms all have spacious bathrooms, satellite TVs and large electronic safes. Furnished apartments are available for long-term residents. There is a 25-metre swimming pool and a gym.
Sarova Panafric Nairobi****
Imposingly set in a quiet residential suburb of Nairobi, the Sarova Panafric commands a panoramic view of the Kenyan capital. The hotels rooms have satellite TV, internet and a 24-hour room service. The hotel is famed for its excellent local and international cuisine, sumptuous buffets, tantalising barbecue and extensive à la carte menu. It is also a home to the Flame Tree Restaurant, dubbed 'the finest restaurant in town'.
Silver Springs Hotel***
Silver Springs hotel is a deluxe 3 star luxurious hotel surrounded by tranquillity and serenity, marked with evergreen trees, beautiful flowers and medicinal plants. The hotel has tastefully furnished rooms with digital safes and electronic card locks. The newly opened 'Silver Nest Wing' is part of Silver Springs Hotel's effort to consolidate its position as an excellent and unique hospitality destination and offers pure luxury. Facilities include a restaurant serving delicious meals and beverages, conference facilities and a modern health club.
Social programme and related events
| | | |
| --- | --- | --- |
| Monday, 15 November | 6.30 to 8.30 p.m. | Cultural activities and welcoming cocktail |
| Monday, 15 November to Friday, 19 November | 8 a.m. to 6 p.m. | Digital photographic documentary exhibition on Intangible Cultural Heritage at KICC. General exhibition at KICC. |
| Wednesday, 17 November | 8 to 10 p.m. | Cultural activities and Dinner at Bomas of Kenya |
| Friday, 19 November | 7 to 10 p.m. | Cultural activities and Closing ceremony |
| Saturday, 20 November | 8 a.m. to 7 p.m. | Nairobi City Excursion: Three different groups |
Nairobi City Excursions
Group A
Nairobi National Museum (10 minutes drive from Nairobi city centre) tells the history of man with original fossils that are found nowhere else in the world. It houses some the most celebrated collections of history, culture, and arts from Kenya and East Africa. A walk in this rich heritage exposes the visitor to the richness of the history of Kenya, the diversity and richness of the Kenya culture, the bird and animal kingdom, and a reptile park that is very popular. The Museum has recently undergone major renovation and is well worth a visit, even with those who may think they have seen it all.
Visit the National Archives and Documentation Services (city centre) which holds government historical documents and exhibits of art crafts and photographs depicting a rich Kenyan heritage.
The Karen Blixen Museum which is located 10km from Nairobi city centre in the former house of the famous author of "Out of Africa", shows what early settler life was like. The museum is famous for the release of the movie, "Out of Africa", an Oscar winning film based on Karen's autobiography by the same title.
The safari walk within the Nairobi National Park (7km from city centre) – is Kenya's new conservation-cum education recreation facility offering a rich bio-diversity of animal collection of cats, primates, antelopes, rare bongo, white rhino etc and over 150 species of local trees.
Group B
Visit to Nairobi National Park which is situated 7 km north of Nairobi, the capital city. The Nairobi National Park, located just outside the city is about 117sq km (45 sq. miles) of plains, cliffs and forest boasts of a large and varied wildlife population of lions, buffaloes, zebras, Thomson gazelles, Cheetah and Maasai giraffes among others. The flora and fauna is marked by open grass plains with acacia bushes and a view of Nairobi city's sky scrapers from within the park.
Group C - cancelled
Excursion to Lake Nakuru National Park has been cancelled.
Passport, visa and other travel information
It is strongly recommended that session participants refer to the Kenya Consular Services in their own country for further information about entry requirements, procedures and visa costs. A list of the Kenya Missions abroad can be found at the Ministry of Foreign Affairs website from the Republic of Kenya at Passport Requirements.
Valid passports or other travel documents including Seaman's Discharge Book, acceptable to the Government of Kenya are required for all persons wishing to enter Kenya.
No official endorsement should be done on Passports issued by the Governments not recognized by the Government of Kenya as valid travel documents; instead, a paper visitor's pass should be issued therein.
Passports must be valid for at least Six (6) Months.
Passports must have a clean and a full visa page for endorsement.
More information is available at the website from the Immigration Department of the Republic of Kenya.
Visa Requirements
A visa (fee: US$ 25, or equivalent) is required for entry by all visitors travelling to Kenya, with the exception of those who fall under the following categories:
Categories of persons who do not require visas:
Holders of a laissez-passer issued by one of the organizations listed here below, while on official business for the organization in question, and upon presentation of an official document from this organization:
European Union
United Nations
African Union
African Development Bank
Arab Bank for Economic Development in Africa
International Red Locust Control Organization for Central & Southern Africa
Desert Locust Control Organization
Comesa
Citizens from the following countries do not require visas:
Bahamas, Barbados; Botswana, Brunei Darussalam, Cyprus, Dominica, Eritrea, Ethiopia, Fiji Island, Gambia, Ghana, Grenada, Jamaica, Kiribati, Lesotho, Malawi, Maldives, Mauritius, Namibia, Nauru, Papua New Guinea, Samoa, San Marino, Seychelles, Sierra Leone, Singapore, Solomon Islands, St. Lucia, St. Vincent & the Grenadines, Swaziland, Tanzania, Tonga, Trinidad & Tobago, Tuvalu, Uganda, Uruguay, Vanuatu, Zambia, Zimbabwe.
Citizens from the following countries do not require visas if they stay in Kenya for maximum one month:
Australia (only applicable to holders of Australian official, service and diplomatic passports travelling on official business), Malaysia, New Zealand, South Africa.
Citizens from the following countries receive gratis visas:
All nationals (under EAC ratification) from Burundi and Rwanda.
Only holders of official, service and diplomatic passports travelling on official business from Cameroon, Nigeria and Senegal.
Given that conditions may vary, you are invited to contact the Embassy or Consulate from the Republic of Kenya in your place of residence to verify this information when you plan your travel.
Special arrangements will be made for the delegates coming from countries where there are no Kenyan embassies to be issued with visas at Jomo Kenyatta International Airport upon arrival on payment of US $ 25. Contact the executive coordinator for details on prior arrangements (ojohnmoogi@gmail.com).
It is also advisable to take out travel insurance for your trip.
Vaccination
Yellow fever
Yellow fever vaccine is recommended for all travelers. The risk is lower in the cities of Nairobi and Mombasa than in other areas. The vaccine is compulsory for all travelers from a yellow-fever-infected country. According to the World Health Organization, yellow fever is endemic in the following countries:
Africa: Ethiopia; Gabon; Gambia; Ghana; Guinea; Guinea Bissau; Equatorial Guinea; Liberia; Mali; Mauritania; Niger; Nigeria; Kenya; Central African Republic; Democratic Republic of the Congo; United Republic of Tanzania; Rwanda; Sao Tome and Principe; Senegal; Sierra Leone; Somalia; Sudan; Togo; Uganda.
South America: Bolivia (Plurinational State of); Brazil; Colombia; Ecuador; Guyana; Peru; Suriname; Venezuela (Bolivarian Republic of).
Central America: Panama; Trinidad and Tobago
Several other vaccinations are recommended before travelling, they include:
Typhoid
Hepatitis A
Diphtheria
Polio and tetanus
Malaria
There's a risk of catching malaria when travelling in Kenya. The highlands used to be a low-risk area, but even there one has to be careful and take precautions. Kenya is home to the chloroquine-resistant strain of malaria as well as several others and taking of anti-malaria medication is strongly recommended.