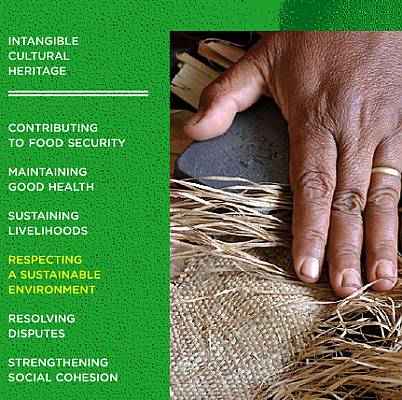 Organized to celebrate the tenth anniversary of the 2003 Convention for the Safeguarding of the Intangible Cultural Heritage, the exhibition illustrates the role that living heritage plays in sustainable development (English/French). Examples from different parts of the world (Brazil, Egypt, Estonia, Kenya, Samoa and Spain) highlight how intangible cultural heritage contributes to health, food security, social cohesion and other development goals.
The excitement of the Frevo carnival in Brazil's Pernambuco State demonstrates how the diverse communities of Recife can live together in harmony and how their shared intangible heritage supports a cohesive society. The Samoans who weave pandanus leaves into beautiful and useful mats and bags have much to teach us about respecting environmental sustainability. The exhibition also reminds us that intangible heritage includes important social institutions to manage scarce natural resources such as water and to mediate differences that may arise among neighbours, as in the irrigators' tribunals of Murcia and Valencia in Spain.
The spirit behind this exhibition is UNESCO's belief that culture should be considered a fundamental enabler of sustainability, a source of meaning and energy, a wellspring of creativity and innovation, and a resource to address challenges and find appropriate solutions.
The exhibition was made possible through the generous contributions of Monaco and Turkey. Should you be interested in mounting the physical exhibition in your region, please contact the Intangible Cultural Heritage Section at the following address: ICH-COM@unesco.org.