25 May 2022
A new publication emphasizing the strong links between intangible cultural heritage and social inclusion in Latin America and Caribbean (LAC) is being launched. Coordinated by the UNESCO Office in Montevideo, the publication features case studies of activities, projects and programmes implemented by communities, governments and various stakeholders from seven countries in LAC that exemplify the role that living heritage can play as a driver for social inclusion.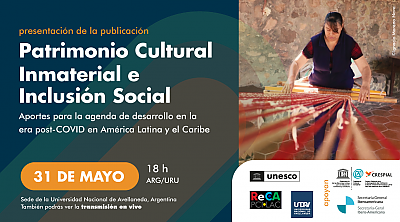 The publication provides a methodological framework to understand the contribution of living heritage to social inclusion based on six intertwined dimensions, including the environmental, the educational, and the socio-economic. The framework is based on the results of an applied research project implemented by a multidisciplinary team of researchers of the academic network ReCA-PCI-LAC.
To celebrate the launch of the publication, a hybrid event will take place on the 31st of May, at the National University of Avellaneda, in Argentina. The University of Avellaneda will also be the host institution of the UNESCO UNITWIN Interuniversity Network on Intangible Cultural Heritage in Latin America and the Caribbean. Thanks to the strong collaborative work with partner institutions, the project has also been presented in several regional events, such as the seventh Ibero-American Congress for Culture and the Open Forum of Sciences of Latin America and the Caribbean (CILAC).
Related themes