African intangible cultural heritage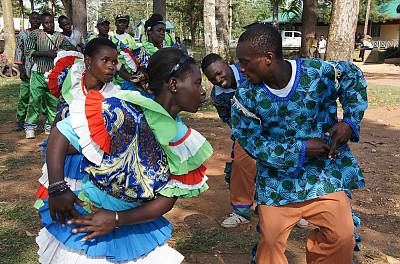 Since the 2003 Convention for the Safeguarding of the Intangible Cultural Heritage (ICH) was adopted, Africa has been one of the most active regions for implementing it, with 50 States Parties coming from the continent. Africa's rich living heritage plays a fundamental role in building a strong cultural identity and shared values across the region, which are key to archieving the African Union Agenda 2063 and the 2030 Agenda for Sustainable Development. As one of its Global Priorities, UNESCO strives to support communities, national and local authorities,for the effective implementation of the 2003 Convention in Africa and the safeguarding of its living heritage across generations.

Living heritage in Africa at a glance
50 States Parties
88 elements inscribed by States Parties from the African continent,
22 elements inscribed on the Urgent Safeguarding List,
65 elements inscribed on the Representative List
One proposal selected for the Register of Good Safeguarding Practices.
US$ 4.8 million assistance granted through the Intangible Cultural Heritage Fund
33 facilitators based in Africa (24% of total members)
2 UNESCO Chairs Omar Bongo University, Gabon (Bantouphonie: languages in danger, endogenous knowledge and biodiversity)
1 Category 2 Centre - Regional Centre for the Safeguarding of Intangible Cultural Heritage in Africa (Algeria)

Some recent inscriptions in Africa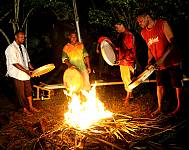 <
Seychelles
,
Moutya, a traditional dance form and practice
, Representative List of the Intangible Cultural Heritage of Humanity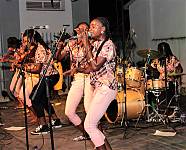 Democratic Republic of the Congo and Congo, Congolese rumba, Representative List of the Intangible Cultural Heritage of Humanity >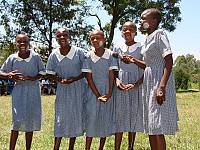 <
Kenya
,
Success story of promoting traditional foods and safeguarding traditional foodways in Kenya
, Register of Good Safeguarding Practices
International Assistance in Africa

As a region, Africa has taken advantage of the largest proportion of assistance granted through the Convention's International Assistance mechanism. Initiatives focus on the development of community-based inventories of intangible cultural heritage, the implementation of safeguarding measures for specific elements including those in need of urgent safeguarding and the integration of living heritage into educational programmes at the national and local levels. In order to facilitate access to International Assistance, technical assistance is provided to States Parties to help in the development of requests
Burundi, Updating of the 2009 inventory of intangible cultural heritage (ICH) in Burundi with the participation of the communities, US$ 96,052, Dates of implementation: 05/05/2021 - 31/01/2023
Niger, Safeguarding the intangible cultural heritage of Niger in a situation of urgency and for the resilience of displaced populations - pilot project in Tillabéry and Diffa, US$ 257,829, Dates of implementation: 26/06/2018 - 30/06/2021
Togo, Inventory, safeguarding and promoting knowledge of how to manufacture and play Togo's traditional musical instruments (national phase), US$ 99,890, Dates of implementation: 11/03/2019 - 28/12/2021
Capacity Building in Africa

The global capacity-building programme supports the effective implementation of the 2003 Convention. Since its inception in 2009, it has supported forty-five countries in Africa to enhance institutional capacities for safeguarding intangible cultural heritage. The capacity-building programme is supported by its network of dedicated facilitators, of which 24% are from Africa.
Angola, Cabo Verde, Guinea-Bissau, Mozambique, Sao Tome and Principe, Strengthening national capacities for effective intangible cultural heritage safeguarding in selected PALOP countries, 01/01/2012 - 01/05/2016, US$ 1,058,905, Norway earmarked contribution to the Fund
Botswana, Eswatini, Lesotho, Malawi, Namibia, Zambia, Zimbabwe, Strengthening sub-regional cooperation and national capacities in seven Southern African countries for implementing the 2003 Convention for the Safeguarding of the Intangible Cultural Heritage (Phase III), 01/05/2018 - 01/06/2019, US$ 117,46, Flanders Funds-in-Trust
ICH and Education in Africa

Initiatives and projects that bring living heritage into classrooms or non-formal education spaces can take different approaches, depending on the local context, the needs, and educational level. Existing successful experiences of integrating living heritage and transformation education in projects in Uganda and Kenya are available on the clearinhouse on education. More on ICH and Education on the dedicated webpage.
Periodic Reporting cycle and related activities
The Convention provides in Article 29 that States Parties shall submit to the Committee reports on the legislative, regulatory and other measures taken for the safeguarding of the intangible cultural heritage in their territories. The Committee examines those reports, in accordance with Article 7 (f), and summarizes them for the General Assembly.
The Secretariat has developed a dedicated webpage which includes references to the reports already examined by the Committee, their summaries as well as future deadlines for reports on the status of elements inscribed on the List of Intangible Cultural Heritage in Need of Urgent Safeguarding.
2024 cycle: Africa (submission of periodic report on 15 December 2023)
Participation Programme projects linked to ICH in Africa

Those Participation Programme projects were approved by the Executive Board for 2020-2021. The Participation Programme functions as a complement to the planned activities of the Organization allowing Member States to analyse and evaluate their countries' needs in relation to UNESCO's activities and to realize projects which could not be accepted in the Programme and Budget. See here for full list.
Cabo Verde, Training and qualification workshop for young women in the preservation of traditional pottery in Fonte Lima ('Atelier de formation et de qualification pour les jeunes femmes à la préservation de la poterie traditionnelle à Fonte Lima'), 2021, USD 20,00
Guinée, Training of young blacksmiths and balafon players of Sosso Bala in Siguiri ('Formation des jeunes forgerons fabricants et joueurs balafonistes du Sosso Bala a Siguiri'), 2021, USD 26,000
Niger, Training and awareness-raising workshop for teachers in Niger's Associated Schools on the challenges and prospects of implementing the 2003 and 2005 conventions ('Atelier de formation et de sensibilisation au profit des enseignants des écoles associées du Niger sur les enjeux et les perspectives de la mise en œuvre des conventions de 2003 et de 2005'), 2021, USD 23,000
African's living heritage featured on Dive!

You can also discover Africa's large living heritage, through a dynamic and interactive space of vibrant intangible cultural heritage practices and expressions, representing a rich cultural diversity.