Resumen
pronto disponible
Resumen
The National Council of Culture and the Arts (CNCA) is the overall competent body for implementing the 2003 Convention, working through its Intangible Cultural Heritage Section established in 2012. As safeguarding of intangible cultural heritage has a central place in Chile's cultural policies, the Intangible Cultural Heritage Section has been meeting annually since 2009 to plan different legal measures to support programmes and initiatives aimed at safeguarding living heritage.
The Documentation Centre (CDOC) of CNCA systematises documentary archives and databases related to the design of policies for cultural management and promotion, and stores documentation related to intangible cultural heritage. It provides bibliographical information, an online catalogue and interlibrary loans to related institutions free of charge, as well as access to its holdings with prior registration.
There are several inventories of intangible cultural heritage in Chile. Of these, the Prioritized Inventory of Intangible Cultural Heritage (administered by the Intangible Cultural Heritage Section of CNCA) is a standardised list of basic records held in the Information System for Intangible Heritage Management (SIGPA) inscribed according to domains of the 2003 Convention but adapted to local needs covering traditional herbal medicine, breeding/fishing techniques, traditional culinary systems and traditional construction techniques. This inventory is updated and revised annually by a committee of experts comprising members of public and private institutions and non-governmental organisations, which also identifies elements requiring special safeguarding policies due to their vulnerability. Some regions have developed their own inventories with artists and practitioners establishing an inventory of traditional musical practices, popular feasts and handicrafts. One Territorial Association, in cooperation with the Mapuche indigenous people, has facilitated research and documentation of their heritage and collated findings from previous field investigations resulting in an inventory, with technical support from the Intangible Cultural Heritage Section. Two other inventories of indigenous heritage are also underway, with customary practices regarding access respected.
Safeguarding measures taken include creating a supportive institutional and legislative environment, and setting appropriate strategies for: research, identification, restoration and dissemination of this heritage (e.g. improving information and knowledge about each region's identity, promoting multicultural diversity in formal education); and safeguarding indigenous and immigrant cultural heritage (e.g. an inventory of institutions linked to traditional culture and folklore, strategic partnerships with academic and indigenous communities, promoting indigenous languages and youth awareness of their heritage). Promotion of cultural tourism is also seen as an important means of safeguarding intangible cultural heritage associated with tangible heritage sites through a partnership between the national tourism authority, the National Institute for Agricultural Development and the private sector. This includes linking intangible cultural heritage-related tourism with regional development, training cultural workers and improving management and control tools.
Measures for awareness-raising have included holding international seminars on intangible cultural heritage and education, tourism and culture, and elaboration of inventories and nomination files, publication of approximately 30 books and making 43 audiovisual recordings of 'Living Human Treasures' and other AV materials, including documentary films that are available on the CNCA website. Also, since 2013, plans have been made to protect practitioners of Chi in Chilele (Poetic Singing) by bringing them together to share knowledge and experiences. The CNCA extension centre has also organised several relevant exhibitions and other artistic activities since 2011.
'Tradition Bearers' is an educational programme designed to integrate teaching about intangible cultural heritage into school curricula. Launched in 2010 by the Artistic Education and Intangible Cultural Heritage Sections of CNCA, it aims to disseminate knowledge and experiences of living practitioners to young people by creating spaces, developing strategies for classroom-based teaching and incorporating a workshop module into school hours or as part of an extracurricular programme. The associated 'Living Human Treasures' programme, initiated in 2009, aims to recognize individuals and communities that are representative practitioners of elements of intangible cultural heritage and their transmission and grant them financial support. Up until 2012, approximately 100 Tradition Bearers Workshops have been held throughout the country and around 40 workshops on safeguarding intangible cultural heritage were held with approximately 800 beneficiaries including public officials, cultural agents, students, artists and practitioners.
To provide financial support for safeguarding intangible cultural heritage, CNCA has established the Dissemination of Cultural Heritage Fund in 2013. This offers full and partial funding to projects that promote identification, documentation, investigation, preservation, protection, enhancement and transmission (through formal and non-formal education) of intangible cultural heritage.
In terms of bilateral, sub-regional, regional and international cooperation, Chile is working on the 'Multinational Project for safeguarding the intangible cultural heritage of Aymara communities in Bolivia, Peru and Chile' (coordinated by the CRESPIAL category 2 centre) that focuses on oral and musical expressions and traditional knowledge (textile art and agricultural techniques). Since 2006, Chile has been an active member of CRESPIAL and currently chairs its Executive Council. CNCA has also been working on supporting the cultural heritage of immigrant communities in Santiago and, for example, has cooperated with the Peruvian Ministry of Culture over the Lord of Miracles element. Chile also cooperates in the 13-country project on the Afro-descendant Cultural Universe aimed at developing policies (among CRESPIAL member countries) for safeguarding Afro-descendant cultural heritage.
Chile has one element inscribed on the Representative List, the Baile Chino (2014). This element had been inscribed during the ninth session of the Committee in November 2014, only a few days before the statutory deadline for submission of the periodic report for the 2015 cycle. For this reason, a report on this element was expected to be included in Chile's next report in 2020; however, Chile already reported on it in the report for the present cycle. In addition, the Safeguarding of the intangible cultural heritage of Aymara communities in Bolivia, Chile and Peru has been selected in 2009 for inclusion on the Register of Best Safeguarding Practices.
Sobre elementos de la Lista de salvaguardia urgente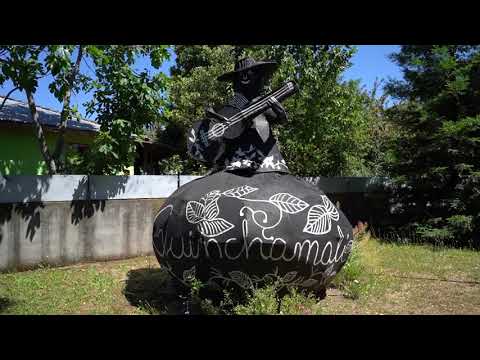 La alfarería de Quinchamalí y Santa Cruz de Cuca, inscrito en 2022