Resumen
pronto disponible
Resumen
The national body charged with the safeguarding of intangible cultural heritage is the General Directorate for Cultural Techniques and Intangible Cultural Heritage Affairs of the Ministry of Culture and Fine Arts (MCFA). It is the main driver in safeguarding activities and has overall responsibility for the inventorying of intangible cultural heritage. The General Directorate is also the primary body responsible for the documentation of intangible cultural heritage. In relation to the documentation of intangible cultural heritage: publications on traditional colouring of khmer silk and the silversmith's art and old documentaries on the Royal Ballet, oral recitation of the tales of the Ramayana and traditional Khmer tales have been restored in cooperation with the Audio-visual Centre of Bophana. For artistic forms in danger of disappearance, documentary research of a more in-depth nature has been undertaken by competent local institutions and with the help of the UNESCO Office in Phnom Penh. These have included an inventory of all the movements of the Royal Ballet and a manual on Yiké (a form of singing theatre). The Royal University of Fine Arts is identified as being responsible for training in intangible cultural heritage, particularly the performing arts and plastic arts. Several sessions for providing training to trainers have been held to develop the competences of young masters who will be placed in art schools and the Royal University of Fine Arts, and also to incorporate artists into private associations and troupes.
In 2004, in cooperation with the UNESCO Office in Phnom Penh, the MCFA published a volume, entitled 'Inventory of Intangible Cultural Heritage of Cambodia', which identified most of the relevant artistic forms. However, the publication is more in the form of a summary, and fails to provide detailed information about every form of intangible cultural heritage. In 2010, a Royal Decree was passed on Living Human Treasures and, in 2011, an inventory of artists and private troupes was established by the General Directorate. As a result of a two-day training session, two inventory forms were finalized: (1) to collect information on the identity and specialization of artists (name, age, profession, competence) and (2) to collect information on private troupes (name of troupe, artists, artistic domains etc.). On the basis of this information, a complete list of artists and artistic troupes was created, along with the domains in danger. Artists and artistic troupes related to the two elements inscribed on the Representative List were identified.
The main lines and priorities of safeguarding intangible cultural heritage are: raising awareness of the importance of the elements; strengthening competent institutions; documentation; restoring value to and revitalising intangible cultural heritage; reinforcing financial capacities; and developing educational programmes for intangible cultural heritage. Awareness-raising activities are conducted by the MCFA in close partnership with other institutions and public and private bodies, non-governmental organizations and community groups. For example, work teams have been established with community and bearers' groups to go into communities and show them the historic and cultural aspects of artistic forms in danger of disappearance. The Ministry of Education, Youth and Sport, the Ministry of Tourism and non-governmental organizations have organized awareness-raising meetings for schools (at all levels) and other cultural actors. The MCFA has also encouraged TV companies, film makers and other actors to include intangible cultural heritage in their programming and products, and intangible cultural heritage elements have been included in traditional festivals (e.g. the Festival of the Dead). Another form of promotion has been through numerous exhibitions on intangible cultural heritage elements held in cooperation with national and provincial museums, national and international cultural centres, embassies and foreign cultural centres. The MCFA has also concluded agreements with various artistic organizations (e.g. the Institute of Khmer Arts, Cambodia Living Arts, Amrita Performing Arts etc.) to conduct wide-ranging dissemination and promotional activities for the two inscribed elements.
Insofar as education is concerned, the MCFA has endeavoured for some years, along with the Ministry of Education, Youth and Sports, to integrate art courses into school curricula but has been prevented by budgetary restraints and the lack of human resources. The Government, with the MCFA and the Ministry of Economy and Finances, will push for a budget to be allocated to the promotion of intangible cultural heritage through the application of the Royal Decree on Living Human Treasures. It has also allowed for salaries to be paid to 17 living treasures and for their knowledge and know-how to be transmitted to young people.
Bilateral, sub-regional, regional and international cooperation includes support from international development partners for the safeguarding of intangible cultural heritage and cooperation with countries in the region (e.g. Thailand, South Korea and Japan). Cambodia has concluded agreements with all ASEAN member countries and, on the ground, joint seminars and meetings aimed at promoting the safeguarding of intangible cultural heritage have been organized on a regular basis within this framework. The objective of these activities is to provide information and to raise awareness among the people of the region in order to achieve a culture of peace and cultural diversity, including intangible cultural heritage.
Cambodia reports here on two elements on the Representative List: the Royal ballet of Cambodia (incorporated in 2008, having previously been proclaimed a Masterpiece of the Oral and Intangible Heritage of Humanity in 2003); and Sbek Thom, a Khmer shadow theatre (also incorporated in 2008, after having been proclaimed a Masterpiece in 2005). Both have a particular importance for Cambodians, including young people, who recognize them as having a character beyond simply intangible cultural heritage, as something that differentiates Cambodian culture from other cultures of the region. They are given extensive media coverage and are chosen to represent Cambodian cultural heritage at ceremonial events. Safeguarding activities for both elements are undertaken under the aegis of the MCFA, which coordinates its efforts with local government authorities, educational institutions, private troupes, non-governmental organizations and cultural associations involved with each element. The present reports were prepared by MCFA officials with the input of representatives of cultural associations, non-governmental organizations and community organizations through an information and working session and by collecting their information on the elements and safeguarding activities.
Sobre elementos de la Lista de salvaguardia urgente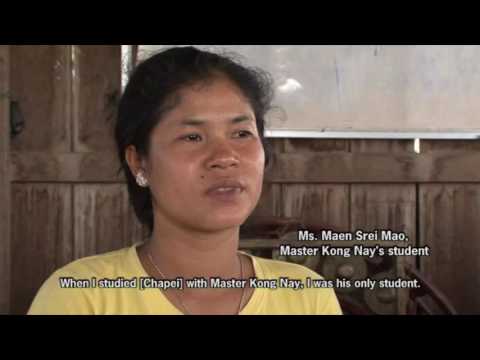 El chapei dang veng, inscrito en 2016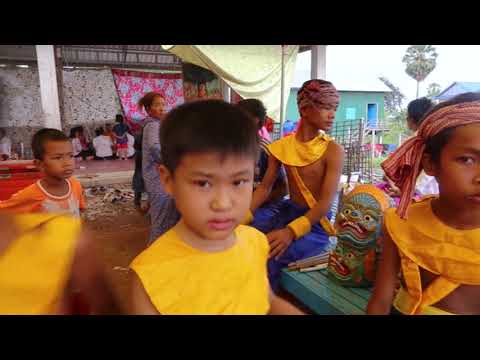 Lkhon khol del monasterio budista de Wat Svay Andet, inscrito en 2018